This post has been compensated by Collective Bias, Inc. and its advertiser. All opinions are mine alone. #CampbellsShortcutMeals #CollectiveBias
As much as I am in denial, I have to acknowledge that summer break is nearly over. I am not ready to embrace the hustle and bustle, but the first day of school is tomorrow. We are a family of four with extremely busy schedules during the school year. It is crucial that I make a thorough grocery list for my weekly trips to Walmart. My husband and I both work full-time. We have a son going into first grade, who also plays fall ball, and a 9 month old daughter in daycare. Busy is all we know during the school year, so we need quick and easy meal options to help make our nights a little less chaotic. I try to prepare
meals
ahead of time that will yield at least an additional night of leftovers, as there is no way that I can cook five nights a week during the school year.
Who has time for that!?
Ready to shop for delicious
Campbell Soup Company products
? Hover over the photo below to click through to Walmart.com and purchase them!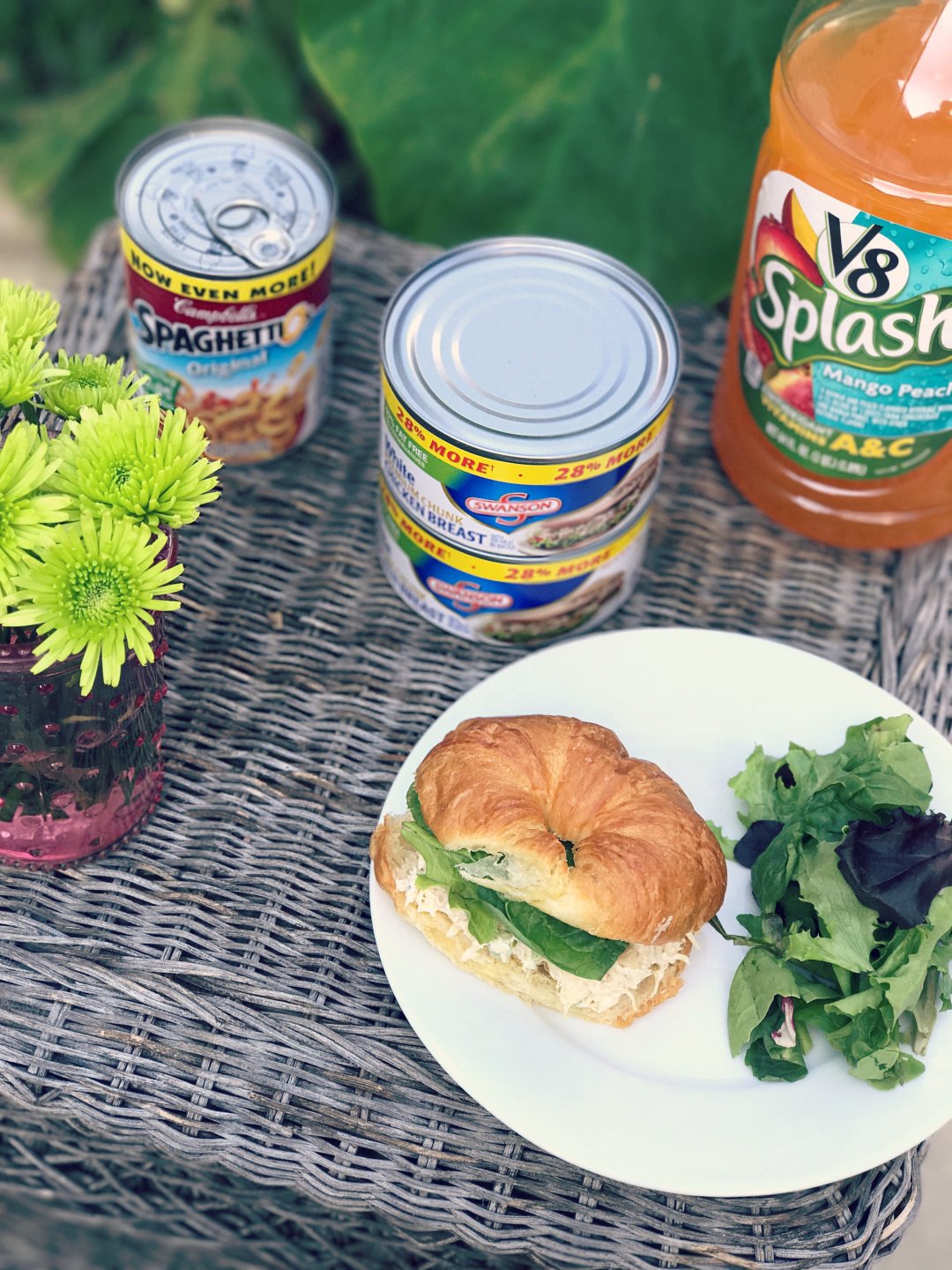 One of my favorite meals to fix ahead of time is my cranberry-almond chicken salad served on croissants. On nights when my son has ball practice, we usually do not get home until 7:30pm. Living in the south,
where it stays summer until the end of October
, we are hot and sweaty messes when we get home from the ball fields. Being out in the heat after a long day of school and work usually means we do not want anything really heavy and rich. My cold, crunchy and refreshing chicken salad is the perfect alternative and is even better when washed down with deliciously fruity
V8 Splash®
. For my chicken salad, I like to use
Swanson®
Premium Chicken because it is already cooked, low in fat and heart healthy.
Our son, whom we call Bubba, is not a fan of chicken salad. He doesn't trust anything that is all mixed together. Most nights I make him eat what we eat, but some nights he deserves to be a kid and eat fun foods. On nights when we get home late and he still has to shower and do homework, I try to have a fun supper option for him that I am comfortable with. One of my go-to's is
Campbell's®
SpaghettiOs®
pasta
.
I have never met a child who did not think they were one of the most fun foods ever, and my child is no exception. Having
Campbell's®
SpaghettiOs®
pasta means manners go out the window as Bubba loves to slurp up the o-shaped pasta!
While we may be eating in a bit of a rush, we still try to enjoy our time as a family around the supper table. I like to find simple ways to make mealtime more festive like some flowers on the table or serving our meals on colorful plates. One way to dress up supper on a weeknight is to serve
V8 Splash®
in fancy cups with straws. It is the little things that make life fun and
V8 Splash®
offers fruity flavors, made with fruits
and vegetables
making it mom-approved!
Good luck to all of my fellow mothers out there getting ready to send their children back to school. It is hard to believe summer break is over and we are back to our school year routines. The lesson I have learned in this is not to say "We will do that later this summer" and to just do whatever "that" is as soon as possible.
Summer waits for no one, and neither does the first day of school!
Nonetheless, I have this chicken salad recipe made with
Swanson®
Premium Chicken to get me through this first week of
chaos
, I mean school!